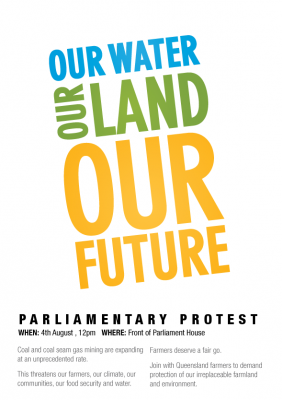 Students from Griffith University, University of Queensland, Queensland University of Technology and University of Southern Queensland are joining with people from across Southern Queensland to call on the State Government to stop coal mining and gas exploration in Queensland.
These developments threaten our climate, communities, farmers, food security and water. Come and support rural farming communities and have some good old fun in the process!
We're meeting on July 25th to paint banners for the action at Turnstyle Social Space in Highgate Hill. Join us in the afternoon for the painting and a picnic.
Contact Steve on steveskitmore [at] gmail.com for more info about the banner painting or the rally.