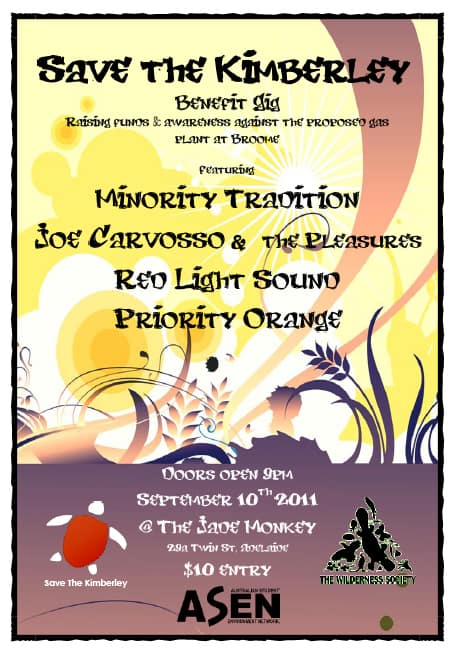 In aide of the 'Save The Kimberley' campaign, SASEN is putting on a benefit gig here in Adelaide to raise much needed funds and awareness for the cause. Supported by ASEN, The Wilderness Society and the Save The Kimberley campaign, its sure to be an awesome night!
The amazing local community members from around Broome in W.A. have banded together to put a stop to their beautiful home being exploited by Industrialisation. One of the imposing threats is from the mining giants – Woodside, Shell, Chevron, BP and BHP as well as the Premier of WA, Colin Barnett are pushing for a 2500ha gas processing plant development at James Price Point, just north of Broome. For more info, visit www.savethekimberley.com
Since early June, the local community have been blockading the proposed gas plant site, and have weathered police violence, industrial bullies with bulldozers as well as bush fires this week. They need support from the rest of the country – this is where we come in!
September 10th
The Jade Monkey
$10 entry
9pm

featuring local bands…
Minority Tradition
Priority Orange
Red Light Sound

There will also be a petition banner to write a message & sign on the night.
All funds and the banner will be taken up to Broome and presented to the members of the 'Save The Kimberley' campaign.
There is also an opportunity for someone to join a few of us travelling up to Broome in mid September to present our banner and funds raised to the local community.
If you're interested in coming with us, email me for details 🙂  cristelchambers@hotmail.com