Written by Agnes McKingley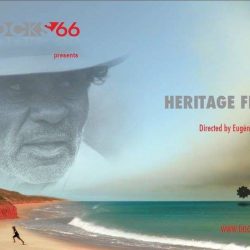 Tonight Cinema Politica organised a film screening of Heritage Fight for Radical Education Week at University of Sydney. Radical Education Week has seen a display of different workshops, skill-sharing events and discussions surrounding a range of subjects which are deeply relevant to the emerging citizens among Syndey Uni's youth. The workshops are free and open to anyone, not just uni students.
Heritage Fight followed the efforts of a community which would not allow unethical and damaging industrialisation to enter its borders.
I decided to go see Heritage Fight because I am planning on moving to Western Australia next year, and the film takes place in the Kimberley, in Western Australia. I thought it would be a good, if somewhat humble, attempt at beginning to familiarise myself with some of the landscape, stories, geography and things that need doing there.
I started to spend time with members of the Australian Student Environment Network at the end of last year, in the build-up towards the Sydney Climate March, which took place in relevance to the Climate Talks in Paris. I will be sad to leave the Sydney community here, but excited to meet members of Western Australia, see what they are up to, and check out whether they are looking to work in solidarity with elders of the different Western Australia communities.